ExACT© helps publishers optimize content cost-efficiently, accelerated speed to market, and is easier to use than ever before! Our Patented technology makes ExACT the most comprehensive educational standards alignment system on the market. The newly redesigned platform will streamline the process of optimizing your content to the specific needs of your target audience.
Over 200 publishers find EdGate's capabilities essential to their success. The ExACT platform combines these capabilities into one easy to use product: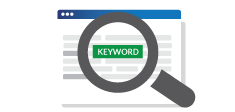 Access millions of educational standards across core subject areas, Social Emotional Learning, CTE, U.S., and internationally.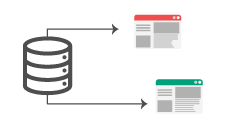 Store and manage your digital content securely, effectively, and inexpensively.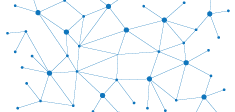 Map your content to thousands of markets and learner needs easily.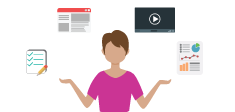 Leverage analytics and reporting, including custom reports tailored to your needs.
In November we will roll out the next phase of our ExACT Platform.
Current Publisher Correlation Center (PCC) users will be automatically upgraded to ExACT on November 22, 2021.

ExPERT reporting, EdGate's current reporting system, is moving to a new platform. EdGate has created a new interface for reporting which is part of a larger suite of tools, ExACT. Currently, when logging in to run reports your team uses ExPERT and Advanced Reporting. In a few weeks, reporting will move to ExACT. ExACT includes a dashboard that provides information about your company's content and the standards that are in your company's reporting profile. Also included in the dashboard are widgets for Correlation Coverage and Latest Standards Updates.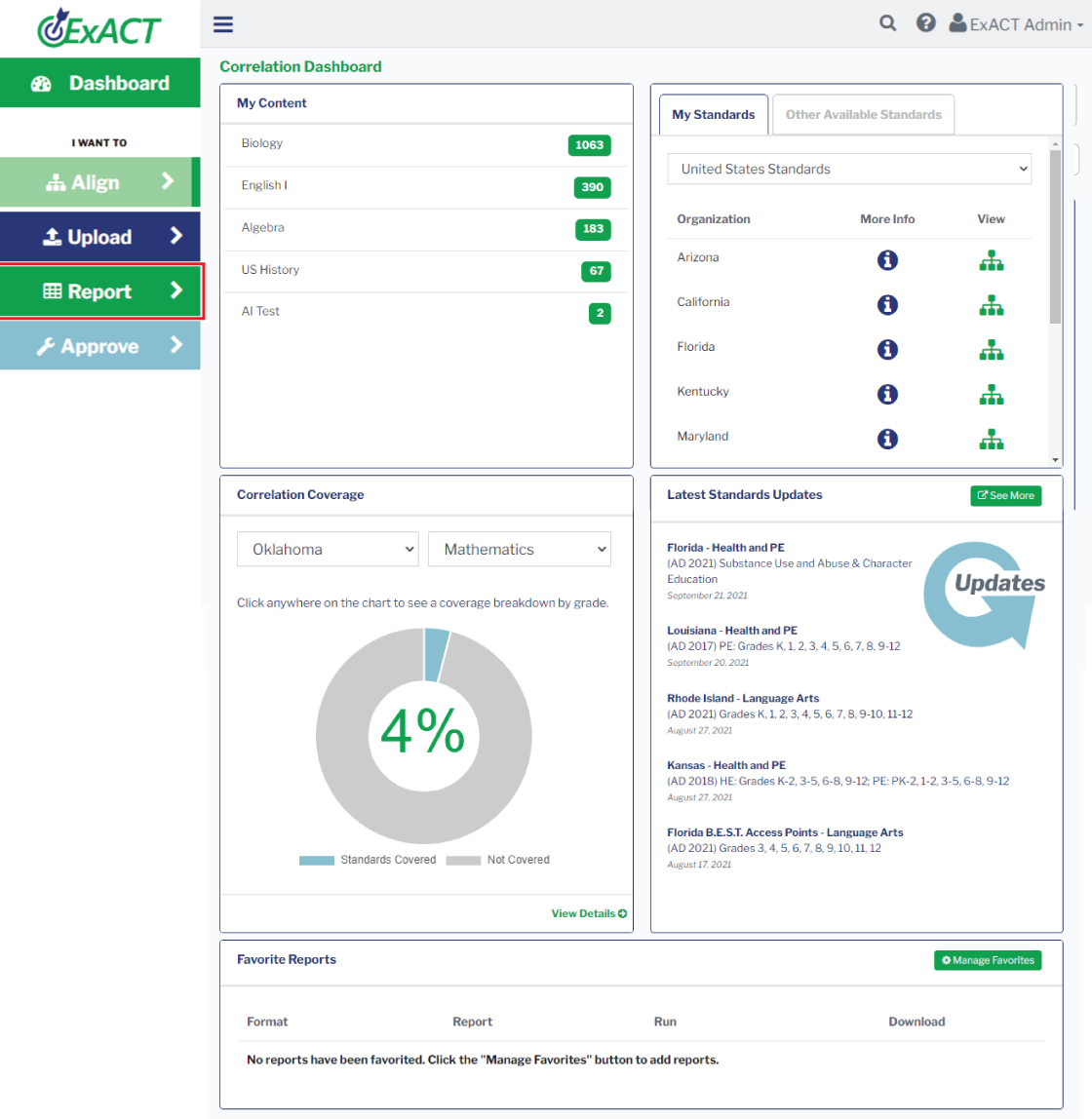 Correlation Coverage
The Correlation Coverage widget will give you a quick overview by grade and subject of your company's content across a specific standards set. Gap Reporting is a premium feature that has been improved in this new platform. Users can click on the View Details link to easily access gap reporting.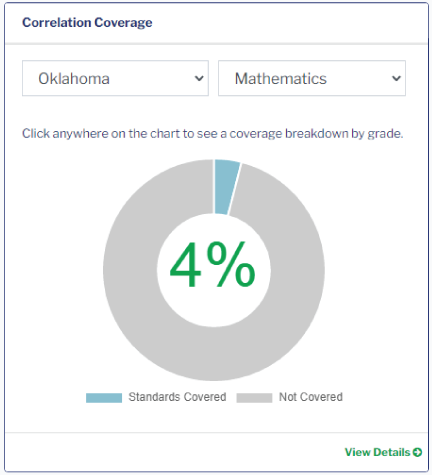 Updated Premium Gap Reporting
Gap Reporting is a premium service in ExACT. This advanced analysis feature helps reveal those educational standards that do not correlate to a specific content unit.
You will be able to view correlated and non-correlated standards, refine correlations and produce statistical reports that reveal content coverage.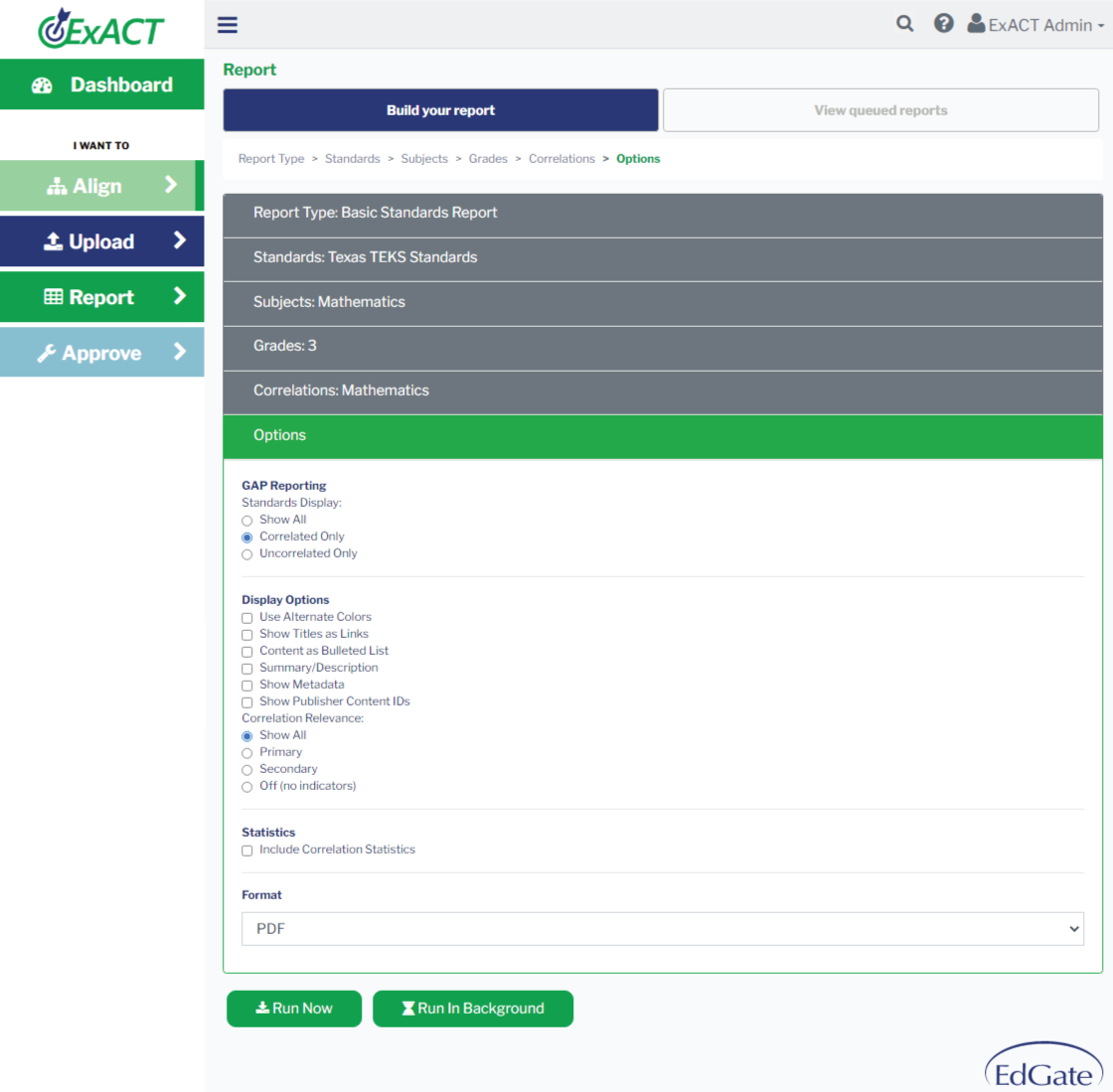 Advanced Reporting – Including Custom Reports
If your company currently has access to Advanced Reporting, this functionality is being added to ExACT. Advanced Reporting provides more options in both format and data selection. With Advanced Reporting users can choose from a variety of report templates designed by EdGate. Our new automated service also offers custom reporting.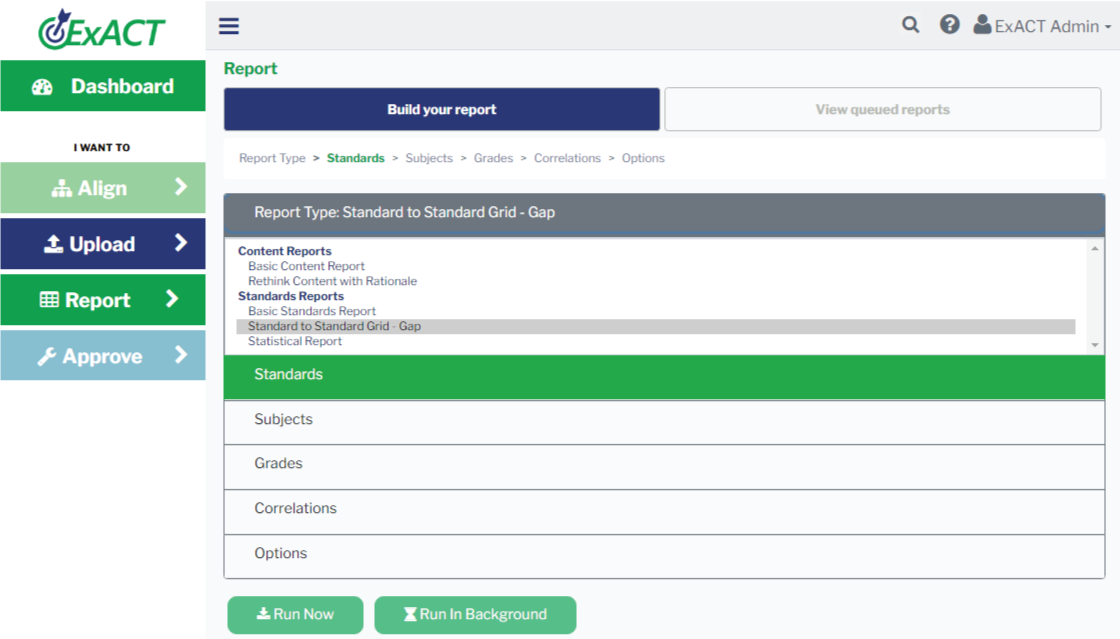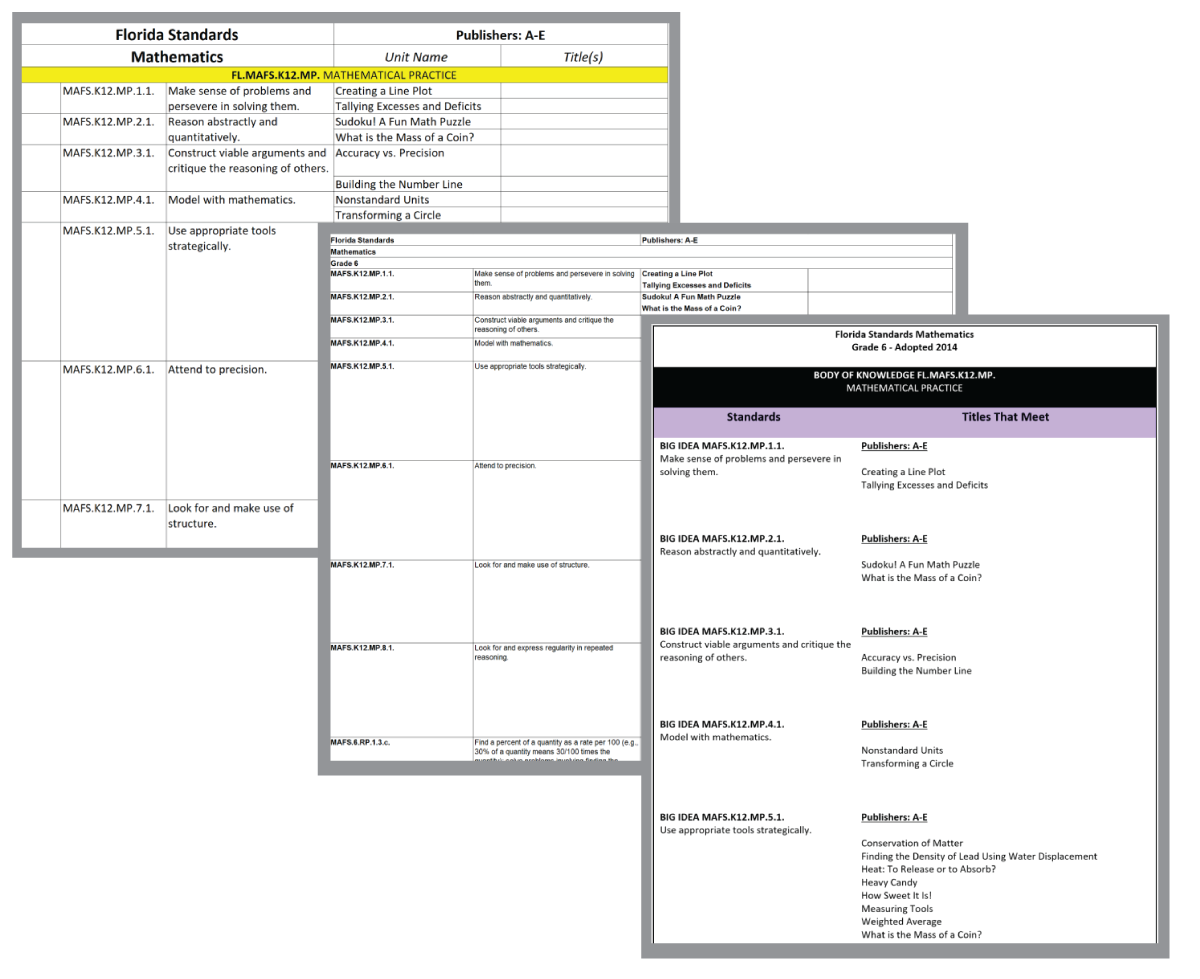 A new feature to ExACT is the Alignment Manager
The Alignment Manager is a premium service in ExACT. Using this feature, clients will be able to adjust aligned content to match specific needs. Correlations can be customized by associating content to a specific standard separate from utilizing EdGate's patented correlation methodology. Moreover, this functionality gives the client flexibility to fine-tune alignments by providing the ability to exclude alignments from displaying in reports. For more information on adding this functionality to the services that your company subscribes to from EdGate contact one of EdGate's Account Representative or your designated Project Manager.