October 2018 Newsletter
Greetings Everyone,
With close to half a million K-12 international standards in the EdGate repository, 2018 has been the year of international standards for EdGate.  We've been delighted to hear from educators and publishers from the UK, India, Australia and Senegal who are looking for a way to cost-effectively align their content to international standards in order to market their products globally. Using EdGate's time-tested and cost-effective taxonomical approach, curriculum publishers are turning to EdGate to apply taxonomic terms (concepts) to content in order to align curriculum to multiple sets of standards in one fell swoop.
Note that the Cambridge Standards (see article below) are now being used by 10,000+ schools worldwide.  Standards for Australia (ACARA), India (CBSE), United Arab Emirates and Canada are also frequently requested. To see a full list of international standards, please visit our interactive standards map pages. Don't see a set of international standards you are looking for? No problem-contact us so we can start researching how we can add them to our growing library of standards. 
As always, EdGate is your source for staying current with new developments in education and the impact of educational standards.
Regards,
Gina Faulk
EdGate General Manager
The IGCSE/Cambridge Standards
Looking for Related Standards?
EdGate Films
What's new in the repository?

Hot Topic
University of Cambridge International Examinations developed the IGCSE. The International General Certificate of Secondary Education (IGCSE) is an English language curriculum offered to students as an international alternative to national curricula, and is comparable to England's GCSE, the North American GED or high school diploma, and Hong Kong's HKCEE. The Cambridge IGCSE is recognized and trusted by universities and employers around the world through assessment of knowledge similarly to the SATs and Advanced Placement tests. The IGCSE curriculum is known for its rigor and is well-regarded by universities around the world in nations ranging from Sweden and Italy to India and Singapore. The curriculum provides students with globally recognized academic grounding and prepares students for post-graduate work before they leave high school. Want to see how many schools consider themselves Cambridge schools (yes, the list includes U.S. schools) so you can consider why this might be a market for your company? Find a list here.
EdGate works with many publishers to align their materials/curriculum to the IGSCE. If you are interested in hearing more please contact your sales representative or visit
http://www.igcsecentre.com/what-is-igcse/
http://www.cambridgeinternational.org/programmes-and-qualifications/cambridge-secondary-2/cambridge-igcse/
By: Jodi Waugh
Project Manager

Teaching Trends
There are occasions where you might be interested in finding standards related to one your content is correlated to or has been written to meet. Common Core has made this easier by providing a standard template that many states have adopted, but it only covers Language Arts and Math, not all states have adopted them, and some states have made changes to them. This is where we can help: our Concept Index uses the EdGate Controlled Vocabulary. This Vocabulary is applied to standards by our dedicated SMEs and identifies standards as related based on the underlying meanings that link them. This helps you find matches in states that aren't using Common Core, and it also works for any subject we have in our repository. If you need to determine related standards to help you with repurposing content, or for any reason, we can help; contact us and let us know what you need.
By: Michael Walpole
Project Manager

EdGate Services
From Khan Academy to YouTube, contemporary education has benefitted greatly from the vast amount of free and accessible film resources for classroom use. Indeed, from teaching concepts to building context, the current EdTech landscape gives teachers a nearly infinite supply of audiovisual resources to choose from.
But for many publishers of film content, the resources to make their products classroom-ready are not attainable. Whereas K-12 teachers desire easily searchable, clearly segmented film chapters associated to specific competencies, most film publishers lack the resources to meet these needs. What to do when your product lacks the necessary add-ons for classroom use?
Luckily, EdGate's dedicated films team has you covered with our robust films services. Our group of subject-matter experts and suite of automated tools can make your film content more useful for teachers with our digital chaptering, metadata creation, keyword creation, and global alignment to our repository of 5 million+ standards. If you're looking to make your product more competitive for an educational audience, look no further than EdGate Correlation Services. For over twenty years EdGate has served publishers in their quest to make their educational films classroom-ready.
To learn more about EdGate, our services, and partners, please contact us and one of our Account Executives will be happy to schedule an appointment with you.
By: Brian Ely
Sales Representative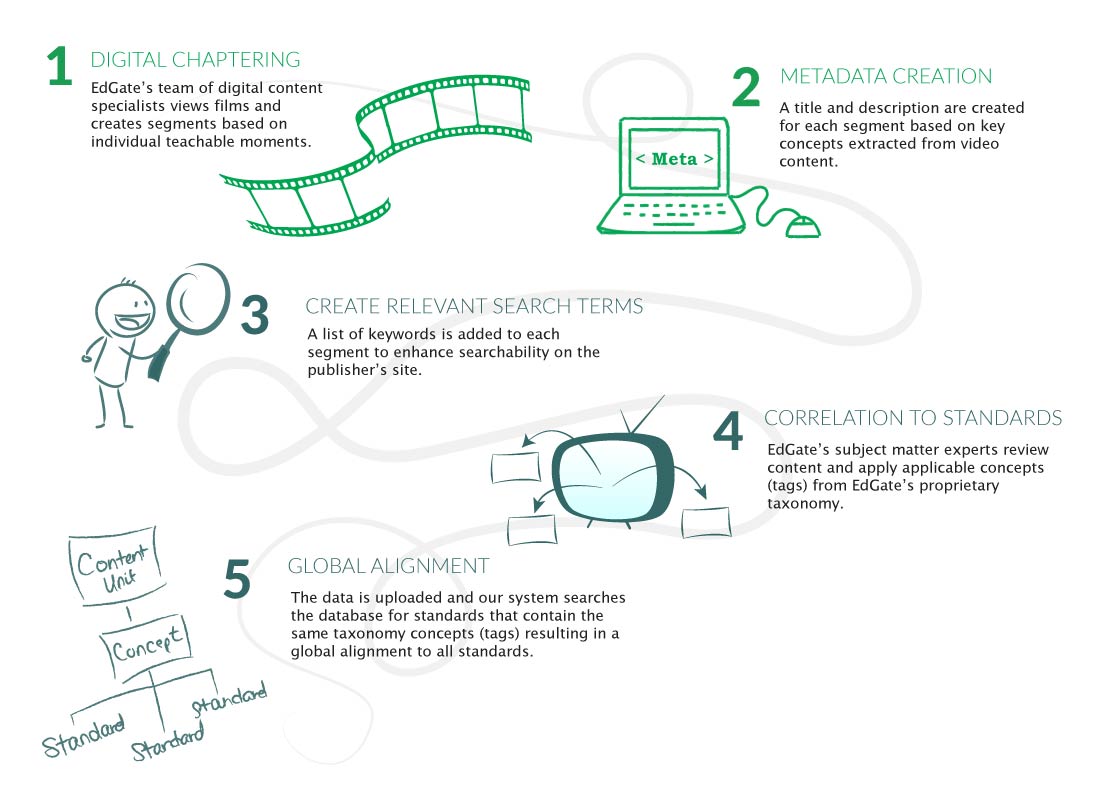 Standard Updates
Updates to The EdGate Standards Repository include:
Arkansas Economics (2017 – Grades 9-12)
ASL Content Standards - Gallaudet University (2018 – Grades K-2,3-5,6-8,9-12)
Cambridge IGCSE (9-1) English as a Second Language 0991 (2017/First Exam 2020 – KS4-KS5)
Cambridge IGCSE Additional Mathematics 0606 (2015/First Exam 2017 – KS4-KS5)
Cambridge IGCSE Additional Mathematics 0606 (2017/First Exam 2020 – KS4-KS5)
Cambridge IGCSE Biology 0438 (2015/First Exam 2016 – KS4-KS5)
Cambridge IGCSE Biology 0610 (2017/First Exam 2020 – KS4-KS5)
Cambridge IGCSE Biology 0970 (2018/First Exam 2020 – KS4-KS5)
Cambridge IGCSE Chemistry 0439 (2015/First Exam 2016 – KS4-KS5)
Cambridge IGCSE Chemistry 0620 (2017/First Exam 2020 – KS4-KS5)
Cambridge IGCSE Chemistry 0971 (2017/First Exam 2020 – KS4-KS5)
Cambridge IGCSE Global Perspectives 0457 (2018/First Exam 2021 – KS4-KS5)
Cambridge IGCSE Mathematics (US) 0444 (2017/First Exam 2019)
Cambridge IGCSE Mathematics 0581 (2017/First Exam 2020 KS4-KS5)
Cambridge IGCSE Physics 0625 (2017/First Exam 2020 – KS4-KS5)
Cambridge Primary – English as a Second Language (2013 – KS1-KS2)
Canada – Newfoundland/Labrador Science (2017 – Grades 3 and 5)
Florida CTE – Engineering & Technology Education (2015 – Grades 9-CU)
Florida CTE – Manufacturing (2015 – Grades 6-CU)
Maryland English Language Arts (2014 – Grades PK,1,2,3,4,5,6,7,8,9-12)
Massachusetts History and Social Science (2018 – Grades K,1,2,3,4,5,6,7,8,9-12)
Miami Dade IPEGS (2018 – Professional Development)
Mississippi Early Learning Standards (2018 – Ages 0-9 mo, 8-16 mo, 16-36 mo, 3yo, 4yo)
NCSSFL-ACTFK Can-Do Statements (2017 – Grades K-12)
Nebraska Early Childhood (2018 – 0-9 mo, 7-20mon, 18-36mo, 3-4yo, 4-5yo)
Oregon Health Education (2017 – Grades K,1,2,3,4,5,6,7,8,9-12)
United Kingdom GCE AS and A Level Dance (2016 – KS4-KS5)
Virginia CTE – Science Technology Engineering and Mathematics (2015 – Grades 9-CU)
Visit our social media pages for more details
http://twitter.com/EdGate
https://www.facebook.com/EdGateCorrelationServices/