Gig Harbor, WA – October 26, 2017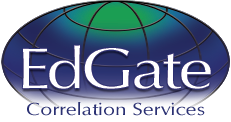 EdGate's correlation methodology has been officially patented, an important milestone in the company's history. Over the last twenty years, hundreds of EdGate's clients have taken advantage of EdGate's unique correlation process, enabling them to use EdGate's dynamic and highly accurate standards alignment process. The award of US Patent No 9,373,264 proves that EdGate's methodology has been scrupulously defined, and demonstrated to be unique in its field. EdGate's exclusive methodology includes a proven system to identify, tag, and align content to specific standards applicable to the curriculum.
"EdGate realized years ago that an efficient standards correlation methodology was much needed in the educational technology industry. Publishers cannot be expected to have the human resources or in-house technology to align potentially thousands of resources state-by-state," says Gina Faulk, EdGate General Manager.
Since standards are concept based, "natural language" or "free text" searching and structure do not provide consistent and comprehensive results. Moreover, standards language differs from state to state. With this in mind, EdGate began the process of building a taxonomy of educational concepts broken down by subject area and rooted in United States and International educational standards to accurately and systematically correlate content to standards. This taxonomy compiled over the last two decades is EdGate Controlled Vocabulary™.
The EdGate Controlled Vocabulary System™ is used by subject matter experts and applied to both standards and content. It contains thousands of terms covering very broad to very specific concepts addressed in the educational standards.
The most efficient component of the EdGate Controlled Vocabulary™ is its dynamic and immediate re-alignment. Unlike other systems that rely on universal identifiers to match content to standards requiring a full re-alignment for each set of newly implemented standards, the EdGate Controlled Vocabulary™ allows for automatic re-alignment of content when new standards are implemented. Moreover, the content is correlated and uploaded once and is immediately available for review by the customer.
As an example, when a resource (such as a video or lesson) has been tagged with terms from EdGate's Controlled Vocabulary™, the data is uploaded to EdGate's system where EdGate's technology dynamically "marries" the resource to all the standards with the same taxonomy terms simultaneously. It is through the concepts that the content correlates to the standards without artificial connections through universal identifiers or natural language matches.
About EdGate Correlation Services

Founded in 1997, EdGate Correlation Services is committed to delivering the highest level of service and data products to educational publishers. EdGate's Standards Repository team tracks standards for all 50 states, Common Core State Standards plus international and custom sets of standards. EdGate's subject area experts align material from more than 250 publishers and content providers. Curriculum Matrix and CMX, powered by EdGate, provide personalized learning for every K-12 student using expertly curated and vetted Open Educational Resources. For more information, please visit http://correlation.edgate.com.
EdGate Correlation Services is a division of San-Diego based EDmin, Inc. EDmin is dedicated to helping educators meet the needs of individual learners and working with our partners to improve student outcomes. EDmin's flagship product, the INFORM® Learning System, is a learner-centric solution for maximizing student potential. INFORM's customizable progress indicators help educational leaders align an entire organization to their unique plan for student success. For more information, please visit http://www.informjourneys.com or follow @informjourneys on Facebook, Instagram, Twitter and YouTube.