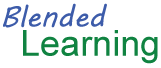 We have heard about the rising tide of "Blended Learning" instruction for several years now and it has changed the way students learn and teachers teach. A report out this month from iNACOL talks about the new wave of blended learning and the importance of incorporating and integrating technology with personalized instruction for it to be an effective tool in meeting individual student's needs and encouraging student achievement.
Every educator knows each student is unique and having the opportunity to tailor their needs will undoubtedly encourage student success. Schools that have been focused on just bringing technology applications into the classroom are now looking at the next steps, how can they take it to the next level and integrate personalization opportunities with their students to optimize success. Districts and teachers are still experimenting with the formulas for what is the most effective blend of online learning and face to face instruction and how the integration of personalization can be capitalized on to aid achievement. It will certainly be interesting to watch how both curriculum and models of teaching adapt in the coming years to fit the changing learning environment. 
Further reading can be found at Education Week and Education World. 
By: Jennifer Larson
Project Manager