May 2021 Newsletter
This Month's Top Standards News and Trends
We Know Standards
Exciting new things are happening with ExACT! Our development team has been hard at work to bring new enhancements to our ExACT platform. We've streamlined our processes, added new functionality along with a whole new facelift. Our new dashboard offers quick access to your most needed information all in one place.
Not a current ExACT user? Reach out to our representatives to learn more about the new features and find out how ExACT can work for you. 
The EdGate Team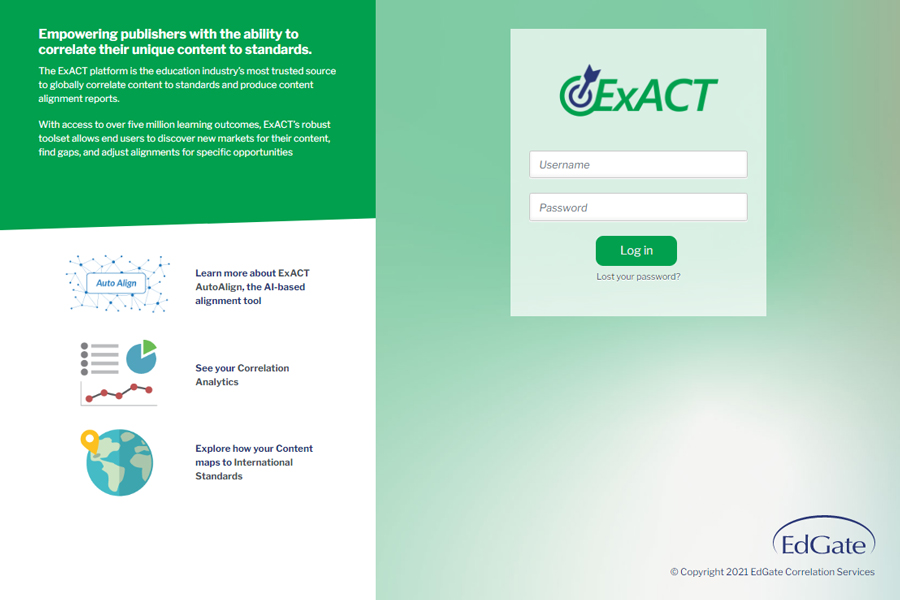 Hot Topic
A year after schools suddenly shut down for the coronavirus, many students found their daily school lives upended. As the end of the 2021 school year approaches, many educators are looking at what the future of education will look like. The Washington Post and educational experts say there are seven areas where change is occurring and will continue to impact the future of learning. These areas are remote learning and Internet use; lost learning, mental health, and air quality; and student attendance and assessment reform.
To provide equitable education and to meet the diverse needs of the majority of students during Covid, districts worked to provide students with many remote learning opportunities. Schools furnished students with electronic devices, wifi hotspots, and often even busses equipped with internet capability. While this new learning style did not work well for all students, others found it very successful. A recent poll by POLITICO-Harvard T.H. Chan School of Public Health survey of public K-12 school parents, a total of 29 percent of parents would prefer their children continue with some form of remote learning. A RAND survey of school districts also stated that one in five were considering virtual school options for the future. Some states expect remote learning to be the basis for future education, while other states see it as only a supplement to in-class instruction. To ensure all students have Internet connections, the government has pushed the F.C.C. to provide Internet-home connections in all school districts.
Covid has led to lost learning for many students. Educators believe that the way to help these students is not a remediation program, but instead, "acceleration training" that seeks to make grade-level work accessible to those who are behind through a combination of intensive help and modifications. For many students, being out of school has had a dramatic impact on their mental health. Educators recognize this important aspect of student well-being and have recommended that schools in the future partner with mental health providers. Another aspect of student well-being is physical health that includes clean well-ventilated air inside classrooms. This has forced districts to recognize that the infrastructures of many of the nation's school buildings need upgrading, and with recent government funding hope to see improved environments for students returning to the classrooms.
In the future, school attendance may be quite different from the past. Funding for school districts depends upon the number of students in attendance, but many districts are using enrollment numbers rather than the previous method in which calculations were based on how many students were sitting in a classroom. The prediction is that students may spend part of a week in the classroom and the rest of the time working remotely. Another adjustment that districts are making involves testing that federal law requires to show accountability. Federal funds have provided a pilot program to look at assessment reform. While testing will be required in the future, it may offer a variety of types that more clearly displays a student's potential.
School districts, forced to become more creative to meet student needs during Covid, are now moving forward, particularly in the seven areas outlined above, so that schools in the future will offer greater flexibility in meeting all students' needs.
By: Nancy Rubesch
Correlator

Teaching Trends
Flipped learning in the classroom is a relatively new style of teaching. This learner-centered approach puts a student's first contact with new concepts prior to any in-class instruction. The student becomes responsible for learning using independent study time and the classroom offers a deeper, more developed understanding of what they learned.
In recent years technology has played a large role in this learner-centered approach. With many schools closed during the pandemic, synchronous and asynchronous learning replaced the traditional classroom setting. Many teachers opted for asynchronous days to provide video instruction, either by pre-recorded lectures or online educational videos addressing new subjects. Students would then come to class with a basic understanding and would experience hands-on learning with the teacher.
But how do teachers ensure that the videos they provide are effective at what they are teaching? How do publishers make sure their videos are reaching the right audience? This is where optimizing your video content to be classroom-ready becomes increasingly important.
EdGate works with companies such as Infobase, a streaming video platform provider, to identify specific concepts being served by their videos, all aligned to appropriate standards or learning outcomes. Their video content has been created with the express purpose of teaching these learning outcomes so that students can be assessed for mastery of concepts in the classroom.  
As we continue to see the trend of flipped learning, the need for concise and quality content will only continue to grow. Reach out to our team to get more information on how EdGate can work with your content to ensure students receive a rich experience from your videos.
By: Sharla Schuller
Marketing Manager

EdGate Services
The year 2020 will be known as the year of the pandemic. It may also be remembered as the year EdTech reimagined education for the 21st Century. In 2020 alone Education Technology startups in the US raised over $2.2 billion in venture and private equity capital. This is a 23% increase in capital and a 19% increase in deals from the previous 'non-COVID' year of 2019, which by comparison raised $1.7 billion. The $2.2 billion marks the highest investment total in a single year for the U.S. EdTech industry.
While the pandemic has been a major disruptive force, it did propel millions of students, adults, and educators to rely heavily on new digital tools. The pandemic event also sent the EdTech industry into a creative think tank for tools to augment the needs of education. Many of these new tools and enhanced platforms have brought a more diverse educational arena to the world. New education funders jumped on opportunities to support products that not only serve as stopgaps but also to reimagine education for the long haul. A win for everyone!
The areas of EdTech that the most growth are in gaming and coding, online courses, financial aid tools, and educational videos. The online gaming platforms for kids, which has a growing educational component with resources that teach kids to code and design their own games, have been a leader. Online courses and financial management tools, especially to colleges and universities follow closely behind.
EdGate has worked with many EdTech companies to align their programs to current learning standards. Contact us to find out how we can assist with alignments, write lesson plans to fit your content, or assist in making your programs classroom ready.
By: Larry Johnson
Project Manager
Curriculum Grants and Funding
In this section of the EdGate Observer we point our clients to news about districts, states, etc. that may have available funding for curriculum.
This month we highlight three upcoming grants and awards:
Standard Updates
Updates to The EdGate Standards Repository include:
Alabama Language Arts (AD 2020/Effective 2022) Language Arts FUTURE - Grades K,1,2,3,4,5,6,7,8,9,10,11,12
AQA GCSE Biology (8461) Science (2016/for exams in 2018 onwards)
AQA GCSE Chemistry (8462) Science (2016/for exams in 2018 onwards)
AQA GCSE Physics (8463) Science (2016/for exams in 2018 onwards)
AQA GCSE Synergy (8465) Science (AD 2016/for exams 2018 onwards)
AQA GCSE Trilogy (8464) Science (AD 2016/for exams 2018 onwards)
Arizona English Language Learners (AD 2019/Implement 2020) Grades K,1,2-3,4-5,6-8,9-12
Arkansas Computer Science (2020/2021) Technology Education FUTURE - Grades K,1,2,3,4,5,6,7,8,9-12
Cambridge IGCSE Physical Education (9-1) - 0413 (Science) Science (AD 2018/Terms 2019, 2020 & 2021)
Cambridge IGCSE Science Co-ordinated (9-1) - 0973 Science (AD 2018/Terms 2019, 2020 & 2021)
Curriculum for Wales Science (AD 2008) Key Stages 2,3,4
Edexcel GCSE (9-1) in Biology (2016) Science (AD 2016/First exam in 2018)
Edexcel GCSE (9-1) in Chemistry (2016) Science (AD 2016/First exam in 2018)
Edexcel GCSE (9-1) in Combined Science (1SC0) Science (2016/First exam in 2018)
Edexcel GCSE (9-1) in Physics (2016) Science (AD 2016/First exam in 2018)
Georgia Language Arts (AD 2018) Journalism I-IV Grades 9-12
Maine 2020 English Language Arts Standards Language Arts FUTURE - Grades K,1,2,3,4,5,6-8,9-12
Minnesota Physical Education (2018/Effective 2021) Health and PE FUTURE - Grades K,1,2,3,4,5,6,7,8,9-12
New Brunswick Curriculum Science (AD 2003-2017) Grades 9,10,11,12
New Brunswick Curriculum Science (AD 2002) Grades K,1,2,3,4,5,6,7,8
New Hampshire World Languages (AD 2018) Grades K-12
New Jersey Science (2020/2021) Science FUTURE - Grades K-2,1,2,3-5,3,4,5,6-8,9-12
New South Wales Mathematics (Updated 2019) Stages 1,2,3,4,5,6
New York Mathematics (Revised 2017/Effective 2019) Grades K,1,2,3,4,5,6,7,8,9-12
Nova Scotia Curriculum Language Arts (AD 2019) Grades K,1,2,3,4,5,6
Nova Scotia Language Arts 7-8 (2020/Effective 2022) Language Arts FUTURE - Grades 7-8
Oklahoma Financial Literacy (AD 2019) Grades 7-12
Oregon Language Arts (2019/Effective 2021) Language Arts FUTURE - Grades K-12,K,1,2,3,4,5,6-8,6,7,8,9-10,11-12
Tennessee English Language Learners (AD 2013) Grades K,1,2,3,4,5,6,7,8,9-10,11-12
Texas College and Career Readiness Standards Language Arts (AD 2018) Grade 12
Texas College and Career Readiness Standards Mathematics (AD 2018) Grade 12
Texas TEKS Chapter 120.Subchapter A. Character Traits Social and Emotional Learning (AD 2020/Effective 2021) Grades K-2,3-5,6-8,9-12
Wisconsin Financial Literacy (AD 2020) Grades K-2,3-5,6-8,9-12
Visit our social media pages for more details
http://twitter.com/EdGate
https://www.facebook.com/EdGateCorrelationServices/