February 2021 Newsletter
This Month's Top Standards News and Trends
We Know Standards
What is EdGate doing to help our clients reach remote online learners? We've modified lessons to include instructions for parents. We've run standards gap analysis reports so that our clients can see where their curriculum gaps are in order to write new content and reach new audiences. Our team assisted companies as they went through their backlists to resurface great remote learning resources and then align the content to standards. We've correlated learning materials to UK AQA GCSE and UK EdExcel exams to support organizations as they target international audiences. Clients have tapped into EdGate's bank of Open Educational Resources(OER) to offer a deeper database of online standards-aligned content. Need assistance? Start a conversation with us!
Gina Faulk
General manager

Hot Topic
Does your company need courses aligned to SCED codes? EdGate can provide those codes as a separate metadata field in your deliverable. For states that are not using SCED codes, but have adopted their own unique course codes, EdGate can provide those state-specific codes as they pertain to your courses.
SCED codes are course codes that apply to all ages/grades, and there are even SCED codes for Early Learning. Per the National Center for Education Statistics (NCES), SCED codes are used to maintain longitudinal data about student coursework, compare course information and exchange course-taking records. The SCED codes are updated and maintained by the National Forum on Education Statistics Working Group that is made up by state and local education agencies. 
SCED codes consist of a five digit course code that classifies the course content: Course Code, Course Level, Available Carnegie Unit Credit (or Grade Span for prior-to-secondary courses), and Sequence of Course. Need to find the appropriate SCED code for your course? Go here: https://nces.ed.gov/scedfinder
By: Gina Faulk
General Manager
Teaching Trends
Remote learning has become a major part of our education system and while it has unique challenges, requiring creativity and innovation, it can be a rewarding experience for teachers and students. To get the most out of your courses and create a successful learning environment, there are a few things to consider.
First, society functions in a collaborative way and peer-based learning happens naturally. Take advantage of this and allow time for small group-learning where students can provide feedback to you and to each other. This can be done with video conferencing, emails, discussion boards, or group calls. Groups are dynamic and will likely need to change based on your assessment data.
Second, maintaining classroom focus via a screen for extended periods of time can be challenging for even the best learners. To keep student attention, implement curriculum that is engaging and provides real-world relevance. Consider incorporating team-based competitions, digital storytelling, and interactive videos and images.
Third, create an inviting learning environment for students. Providing courses that have a clear and consistent structure throughout each module allows for intuitive navigation and helps eliminate student frustration. Don't forget the importance of formative assessment to determine whether students are getting the most out of the course.
For more information on formative assessment strategies, check out Edutopia's "8 Quick Checks for Understanding" and TalentLMS provides tips on how to create an interactive learning environment.
By: Naomi Morton
Senior Digital Content Editor

EdGate Services
A Correlation User Interface (CUI) may be exactly what you need.
At EdGate we hear from our clients that districts, educators, and publisher's sales and marketing teams need content alignment to standards reports quickly and on the fly! There's no reason why your staff needs to be bogged down with creating reports. A CUI frees up your time and puts alignment report generation into the hands of your users.
Hosted by EdGate, a CUI is an iFrame designed to be branded and embedded into client websites and customized to maintain each organizations look and feel. Search options may include grade, subject, standards, products and key terms. Users can search by standard or by content. Once the user selects their search criteria, an Excel, Word, PDF or print option is available.
Check out the basic CUI below to see how this option could work for you.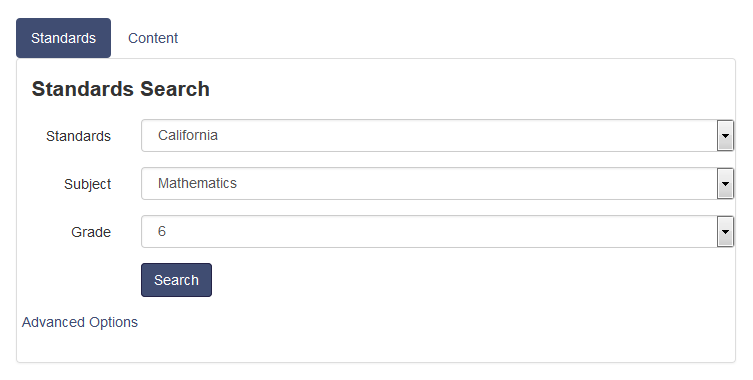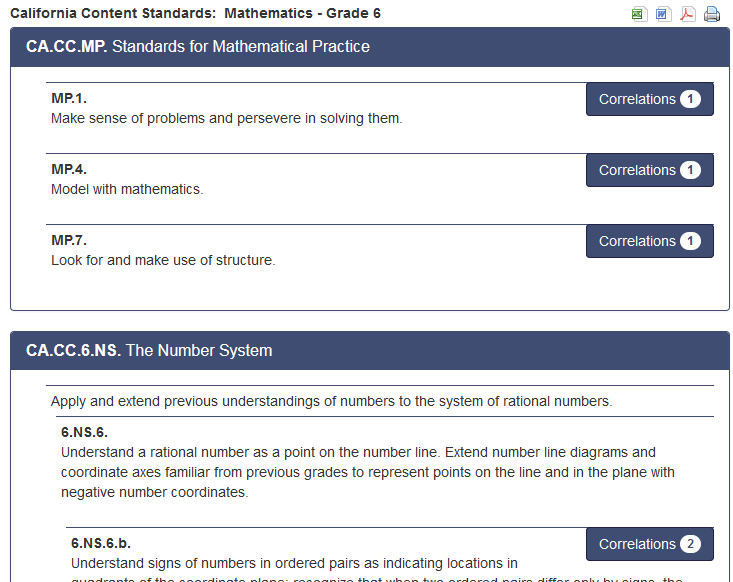 By: Gina Faulk
General Manager
Curriculum Grants and Funding
In this section of the EdGate Observer we point our clients to news about districts, states, etc. that may have available funding for curriculum.
This month we highlight two upcoming grants and awards:
Standard Updates
Updates to The EdGate Standards Repository include:
Arkansas Curriculum Frameworks Arts Education (AD 2020) Grades K-2,3-5,6-8,9-12,6-12
British Columbia Curriculum Health and PE (AD 2018) Grades 10,11,12
DoDEA College and Career Ready Standards Social Studies (AD 2016/Effective 2020) Grades K,1,2,3,4,5
Indiana Academic Standards Technology Education (AD 2018) CSIII - Grades 11-12
Iowa Core Social and Emotional Learning (AD 2019/REVISED 2020) Grades K-2,3-5,6-8,9-12
Nevada Academic Content Standards Health and PE (AD 2019) Health - Grades K-2,3-5,6-8,9-12
Nevada Academic Content Standards Health and PE (AD 2020/Implement 2021) Grades K,1,2,3,4,5,6-8,9-12 FUTURE
New York State Learning Standards and Core Curriculum Technology Education (AD 2020/Effective 2023) Grades K-1,2-3,4-6,7-8,9-12 - FUTURE
Ohio Learning Standards World Languages (AD 2020/Implement 2021) Grades K-6,7-12,K-12 FUTURE
Pennsylvania Core and Academic Standards English Language Learners (AD 2017) Grades PK,K,1,2,3,4,5,6,7,8,9-12
South Dakota Content Standards Health and PE (AD 2018/Effective 2019) Health - Grades PK-2,3-5,6-8,9-12
Wisconsin English Language Arts (2020/IMPL 2021) Grades K-12, K,1,2,3,4,5,6,7,8,9-10,11-12 FUTURE
Visit our social media pages for more details
http://twitter.com/EdGate
https://www.facebook.com/EdGateCorrelationServices/