Founded in 1997, EdGate Correlation Services' core commitment is to deliver the highest level of service and data product to content providers.

Originally established by educators for educators who recognized the power of the Internet as a teaching and learning tool, the focal point of success was the development of the standards-driven technology and process of alignment that became known as the Curriculum Matrix™.
As a part of our K-12 Internet Portal -- The Community Education Gateway -- clients such as the states of Wyoming, Connecticut, and districts across the country accessed the standards-based Curriculum Matrix™ to find quality lessons for use in the classroom.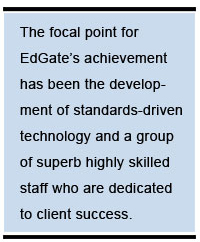 With the growing success of these innovative alignment processes and sophisticated tools, EdGate Correlation Services began working with publishers in 2000. With its hallmark ability to meet the demands of the current marketplace, EdGate continues to develop tools and services for publishers of all types of educational content.
EdGate Correlation Services LLP is a division of EDmin, a learning management and instructional technology solutions company based in San Diego California. EDmin products include INFORM, INSITE, EDUCATION WORLD, SCHOOLNOTES, TOTALREADER and SUCCESS.
Some of the exciting news about our company:
EdGate has recently launched The EdGate Observer, a monthly newsletter that focuses on topics of interest to our clients. We will be archiving these email newsletters on this website. Please click on the link below to view this newsletter.
November 2010 edition: Relationship between Common Core and previous National standards, Beyond the Four Core (What other standards does EdGate offer?), State Standards Comparison Grid, and interesting facts gleaned from the National Media Market conference.
October 2010 edition: Partnering Trends in Publishing, Industry Standard for Availability of Service, Incremental Bulk Download in XML format, Common Core Update and the new Texas TEKS Social Standards.
September 2010 edition: How social networking is utilized by our clients and other organizations, Basal Textbooks now available, Standards Update, and Services for Media Companies.
July 2010 edition: EdGate celebrates 10th Anniversary, 2010 CODiE Award Clients, Bloom's or Webb's DOK Taxonomy, Common Core Update, and Content Licensing from EdGate and Education World
June 2010 edition: Common Core Debate, Controversial Social Studies Standards, Newly-relaunched Curriculum Matrix, and EdGate Summary of Services
May 2010 edition: ESEA Reauthorization, How Are Schools Approaching Curriculum Design? Making Scope and Sequence Simple, International standards, and our Enhanced Content Search Tool
Apr 2010 edition: U.S. Graduates Competing in a Global Economy, EdGate Standards Mapping Services, Custom Reports and a Q1 Standards Recap
Mar 2010 edition: What will High Schools look like in 10 Years?, Bloom's Taxonomy and Standards, Spanish Standards and new Common Core Draft Released
Feb 2010 edition: What do Print and Dinosaurs have In Common?, A Science Perspective on Standards, RFP Reporting formats and Kudos to Colorado!
Jan 2010 edition: Canadian Standards, Oxfam International Standards and Non-profit Organizations as Content Publishers
Dec 2009 edition: Tracking Changes in Standards, STEMS Initiative, Channel One, Textbook Alignments, and Social Studies Assessment Standards
Nov 2009 edition: Early Childhood Standards, Virtual Education, Concept Approach to Content Development, and Integrating Textbooks into the Texas Instruments site
Oct 2009 edition: Common Core Standards continued, Assessment vs. Curricular Standards, Client Website Solution, and Curriculum Marketplace
Sep 2009 edition: Common Core Standards, Universal ID's, and ECS Subject Index

In serving the standards correlation needs of 125+ educational publishers and content providers, EdGate Correlation Services would like to acknowledge some of our newest clients and thank them for their business.
Gryphon House: An award-winning publisher of Early Childhood materials, Gryphon House also has partnered with the University of Wisconsin to provide online professional development for early childhood educators and caregivers.
Discover Magazine: Launched in 1980, Discover publishes in-depth articles of science, technology, and future technological trends for the education and general market.
Agilix: Agilix Labs, Inc. provides e-learning solutions. It offers GoCourse, a hosted e-learning platform for schools to enhance student achievement and enable teacher effectiveness; BrainHoney, a user-generated learning library; and GOBINDER, a personal productivity application for students and professionals.
Gale®: Gale®, part of Cengage Learning, is a world leader in e-research and educational publishing for libraries, schools, and businesses. Best known for its accurate and authoritative reference content as well as its intelligent organization of full-text magazine and newspaper articles, the company creates and maintains more than 600 databases that are published online, in print, as eBooks, and in microform.
When it comes to correlation work, EdGate collaborates with content providers of all sizes and types of content. Here are just a few examples of our nearly 150 clients and the educational content that they provide to teachers and students around the world.
Apex Learning
Offering a wide range of online courses and comprehensive tools, the Apex Learning® Academic Curriculum provides standards-based courses in math, science, English, social studies, world languages, electives, and Advanced Placement* for grades 6 through 12.
Films Media Group
As the leading provider of media for higher education, Films for the Humanities & Sciences creates and distributes world-class academic content for discerning educators. Films for the Humanities & Sciences is widely recognized as having the broadest and deepest range of content available.
Library of Congress
As the primary repository of print and non-print resources in the United States, the Library of Congress offers lesson plan activities, virtual field trips, and other resources as part of The Learning Page. Recognized by ISTE as one of the 101 best Web sites in 2006, The Learning Page also offers access to a wealth of primary resources.
Smart Technologies
As a world leader in interactive whiteboards and innovative technology, Smart Technologies has also created hundreds of lessons that can be used with Smart applications. This Canadian company has integrated standards from the U.S., Canada, Australia, and United Kingdom.
Teacher Created Materials
Teacher Created Materials publishes quality, research-based, educational resources in all curriculum areas for teachers and students at all grade and skill levels.

EdGate Correlation Services' staff of professional educators and sales consultants have years of industry experience and understand the pressures of selling into the K-12 market. Based in Gig Harbor, Washington, this group of 30 professional educators, technical program managers and support staff will take extraordinary steps to meet publisher deadlines and requirements. Sales consultants are based in the heart of publishing territory in New York and Chicago.


Staff Biographies
Sandra Schugren – General Manager With 30 years of experience in management positions, Schugren has worked in both the public and private sector. She has overseen the administration of several urban public libraries, served as Director of Technology in a large school district and worked as a consultant to plan and develop information systems for a number of businesses. As a founding member of EdGate in 1997, she has served as Vice-President of Product Development and most recently as General Manager for EdGate Correlation Services. As GM for EdGate Correlation Services, she focuses on excellence in staffing, technical systems and customer service. Sandra's interests include travel, yoga and equestrian sports.

---

Leslie Kolber – Sales Consultant (Chicago)
Leslie Kolber brings over 15 years of sales and marketing experience in educational publishing to EdGate Correlation Services. Throughout her career, she has successfully created winning partnerships with national retailers, major corporations and publishers. Leslie strength is in her commitment to customer satisfaction and her willingness to do whatever it takes to get the job done.

Leslie earned a BA in Marketing Communications with a concentration in Public Relations from Columbia College, Chicago. She is on the advisory board of Hey U.G.L.Y, a non profit organization that helps teens build self esteem. She lives with her husband and two teenaged daughters in Northbrook, IL.

---

Jeremy Ashcraft – Technical Manager
Jeremy has been a part of the EdGate team since the summer of 2000. Jeremy also serves as senior technologist for SchoolNotes.com and other EdGate/EDmin properties. With a Computer Science degree from Purdue University and previous experience in the Bio-Tech, Healthcare, and Sales Incentive industries, Jeremy has been designing and building Internet-based solutions for nearly ten years. In his spare time, Jeremy coaches high school pole vaulting, contributes to various open source projects, and is a guest author at search-this.com

---

Kristie McCarley – Support Manager
Kristie McCarley has over 20 years of experience working in business and education. Prior to coming to EdGate in 1997, she worked for 13 years in a public school district beginning as an Executive Assistant and moving into the role of Web Designer and Technology Instructor for staff development. Ms. McCarley currently serves as Support Manager for EdGate Correlation Services.

---

At ECS, we manage projects with teams of curriculum experts. Each team has a Project Manager who is responsible for client engagement and contract management, subject standards and monitoring of correlation work.
As a company founded by educators to serve educators, EDmin's Mission Statement, "To serve the K-12 educational community with value-driven solutions that support decision-making, accelerate learning, and improve performance" has guided EDmin since its inception in 1989. For the past eighteen years, EDmin has demonstrated its commitment to the advancement of education through the effective use of technology with an exclusive focus on the K-12 community including the academic publishers and educational advertisers that serve this community.

EDmin has been one of very few organizations in the United States to focus exclusively on enterprise-scale K-12 information systems and integrated solutions. EDmin has a distinguished track record of working with many state education agencies (SEAs). Current projects, including the States of Wyoming and Maine, are setting the standards for statewide SIF-enabled performance tracking solutions with aligned resources.

EDmin has worked with education leaders from hundreds of institutions to develop its premier solutions. The following diagram provides an overview of EDmin's product offerings that support a cycle of continuous improvement. These products are designed to provide powerful and easy to use to solutions to support and enhance both teaching and learning by increasing the "teachable moments."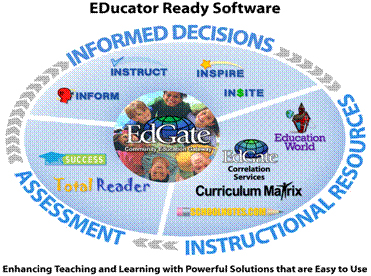 Recognized as an industry leader in learning management and instructional technologies, EDmin's solutions are employed in more than 500 school districts in all 50 states throughout the U.S – including intermediate units and state departments of education as well as the leading publishers of textbooks and supplemental materials.

EDmin was the first company to offer a comprehensive learning systems approach to managing student performance aligned to standards. EDmin's expertise with statewide and large district implementations and planning processes are well known and in evidence in many of the leading school districts across the country such as Montgomery County and Harford County, MD, Lake Washington, WA and Cobb County GA.
For more information, please visit: http://www.edmin.com